Segway key – Infokey save, store and duplicate service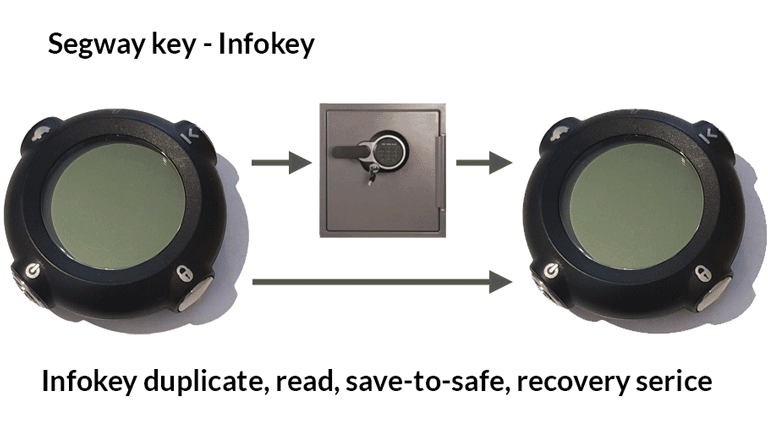 Every Segway PT user afraid to lose or break a key. The infokey should be programmed to exact Segway PT. You can not use a key from another machine. If you have no spare key you know it was the only way to order a new one from Segway official distributor. You will pay huge money and should have enough time to wait. Sometimes servers are not working and you should wait a couple of months or even more (as it was already in 2019).
Who knows when Segway Inc. will shut down support service after end-of-production on July 2020…
What do we offer
We can clone / duplicate your infokey. You will get the second segway key store it at home
We can read your infokey data (EEPROM) and store it in The Safe
We can recover your segway key if it's buttons/ screen/ body is damaged
We always have in stock genuine brand new keys for segway, ready to program and send to you
Sometimes we have in stock used keys in good working condition
If you break your key or lose it we just write down this data to other infokey (new or used as you want) and you will get a new key in 48 hours (EU countries).
Need other parts, help or maintenance for your Segway PT? Contact us, we will offer a solution.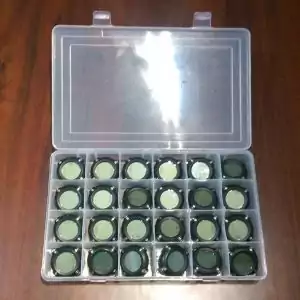 Q&A
Q: I have only one key. How fast you do read/ write the key?
A: We send your infokey back the same day it delivered to us. Read or programming process gets less than 1 hour.
Q: If I will come to your office, can I wait while you read/ write a key data?
A: Yes for sure. We will offer a coffee espresso while you wait there.
Q: I have a new key and it's screws are sealed. Will you open it?
A: If you want to read/ write EEPROM data we will not open your key. But if you request to restore a buttons we will open it for sure.
Q: I want to clone (make a copy) of my segway infokey. Or couple of copies. Can you do this?
A: Yes, we can. If you have your own other (new or used) key we can program/reprogram yours or sell you a key and program it at once.
Q: Where are you located?
A: We are in Prague. In the city center. Will provide you exact address on request.
Q: I have a problem with a button on my key. Can you recover the button?
A: Mostly yes. Even we have new infokey body, display and other genuine parts. Please describe your problem in the feedback form below and we will offer a solution.
Q: There are some codes printed on my infokey on the back side. Are those needed for programming?
A: No. Those codes are a part number and key number in Segway Inc. database. You can send us even key mainboard without the body, its enough to read/ write EEPROM data.
Q: I have Segway PT Gen-1. Can you read/write its key?
A: Those machines are very rare. We do not regular working with Gen-1 but please contact us via form below.
Q: I have no key for my segway. Can you recover a key data?
A: If you save the key data already using our service – yes, we can program a new key for you. If not – we can request the key data from Segway Inc. It gets some time: from couple of days up to several weeks. You should leave your extended contact data with real name. You should be sure that your Segway PT was not stolen (not registered in black list of Segway Inc.)
Q: How I can be sure you will not make a key to my segway and provide this data to someone else?
A: If you want you can send us the key anonymously (via your neighbor, your colleague etc.) We do not know and do not need the serial number (ID) of your segway. But we can recover (make a new key) only to the same person who provide us the key for reading.
Q: I have china-made self-balancing scooter. Can you copy my key?
A: No. We offer this service only for Segway PT made by Segway Inc. We do not provide any kind of service for other kind of transporters.
Q: How do you store the key data?
A: Reading your key we store the key EEPROM data in the cloud service AND a backup on external SSD stored in the safe. The data file associated with your email and if you want with other extra data you provide. We need not any personal data if you sure that you will have your email forever. In case lose your email box its strongly recommended to think about in advance and provide some extra authentication data.
Q: Can you write down my key data to USB flash drive (or SD card) and send it to me back with the key?
A: Yes we can. It cost extra 10€.
Q: I am Segway Tour operator. Need to save 20+ keys. Can you do it fast?
A: Yes. We can process 50+ keys daily and send you back your keys by DHL Express same day.
Contact:
Euro Segway Prague
+420 776 337 560  (calls + WhatsApp)
eurosegway (at) gmail.com
Address:
Maltezske square 479/7
Prague 11800, Czechia
Google Maps link (opens in a new window)
Disclaimer:
Segway® is a registered trademark of Segway, Inc. We are not affiliated with Segway Inc.
We do not sell/ offering any counterfeit products or products similar to Segway PT or Ninebot PT or similar to their parts.